I am NOT a cake decorator. But, I DO think it's fun. I have memories of my mother making fabulous cakes every year for my birthday. Maybe that's why I feel compelled to attempt the same for my kids.

Plus, I HATE the way grocery store cakes taste!
Anyone else?
I'm probably the only one, but I think they're gross.
I prefer to make my own, sort of, (from the box) cake.
I thought this was the most beautiful cake I had ever seen!
(excuse the poor picture quality - I scanned it out of my baby book)
Wish I could get my hands on this cool cake platter!


Here are a few that I swear are really easy.
Maybe not completely professional looking, but great for little boys.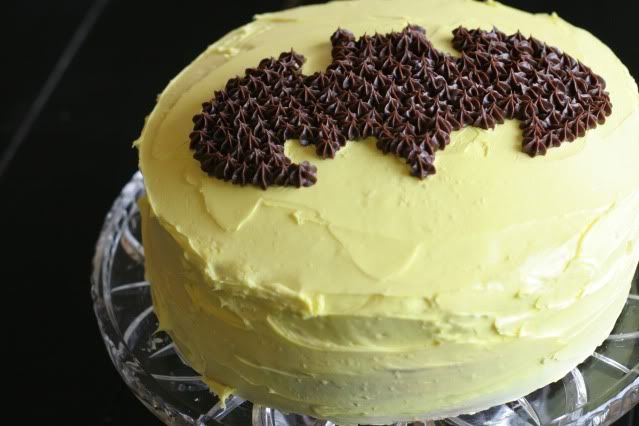 Boy #2 wanted a Batman cake for his birthday. My first thought was to make a bat shaped cake...
Then, I got smart. I just copied a clip art from the internet and printed it out the size thatI wanted.
I frosted the cake yellow.
Then, layed the bat on top of the cake and used a toothpick to trace it's outline.
Last, I used chocolate frosting (close enough to black) to fill in the bat.
You could do this same thing for almost any cake design!
The Snake Cake.
You just bake the cake in a bundt pan & cut it into 4 equal sections.
Then rearrange the sections to resemble the shape of a snake before frosting.
Add, your snake's design/pattern with frosting and candies,
and that's it!
The Turtle Cake (2 ways)
1 - bake all cupcakes
arrange them all, except for 5, in a circle
frost as decorated above
or
2 - bake one round cake and the rest cupcakes
and frost as shown
Either way works great.
Sometimes it's just easier to have cupcakes for a kid's party.
Here are a few that I've never done, but look cool and easy too.
I'm ALL about easy!
Most sports cakes are easy, like
this basketball one
.
I made a baseball cake one year, similar to
this
.
Just white frosting with red crisscrosses on a round cake.
or this
football field
cake
or this
guitar
cake
or
this summer themed cake
.
I did one similar, but used Teddy Grahams for the swimmers,
put fishy crackers around the sides, and used white lifesavers with red stripes as floatation devices.
(can't seem to find the picture)