This substance is pretty cool.
We were amazed at how it transforms over and over again with just a touch!
What You'll Need:
2 parts cornstarch
1 part water
food coloring (optional *my son's hands are still a lovely light green color*)
(this also turned out to be good reinforcement of primary colors
& how they turn into secondary colors)
Just mix it together.
Then watch as it changes from liquid (or like a liquid)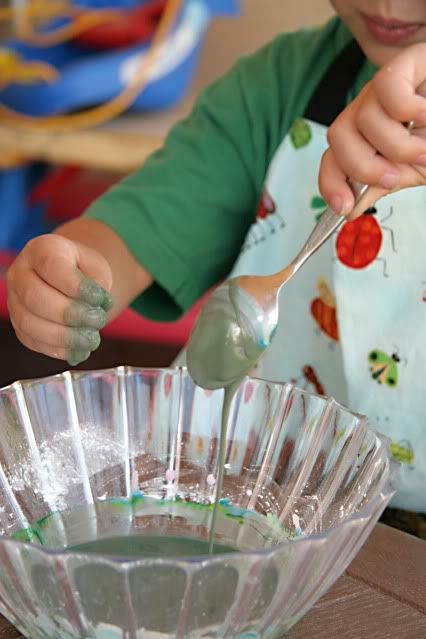 to a solid when pressure is applied.
Try this with it:
- Smack it! If you hit the mixture really hard, it might even break.
- Pour it from hand to hand. If you go slowly, it will pour freely.
- Roll it into a ball. If you keep rolling, you can roll it into a nice ball.
Of course, as soon as you stop rolling, it will ooze and turn back into a puddle.
- Bounce it! If you get the right consistency, you can even bounce a ball of this goo!
* I also saw a video of someone who was walking in a big container of "

Oobleck

".
If you walk fast enough, you can stay on top of the goo.
That looked fun, but I wasn't up for that today. Maybe another day. *